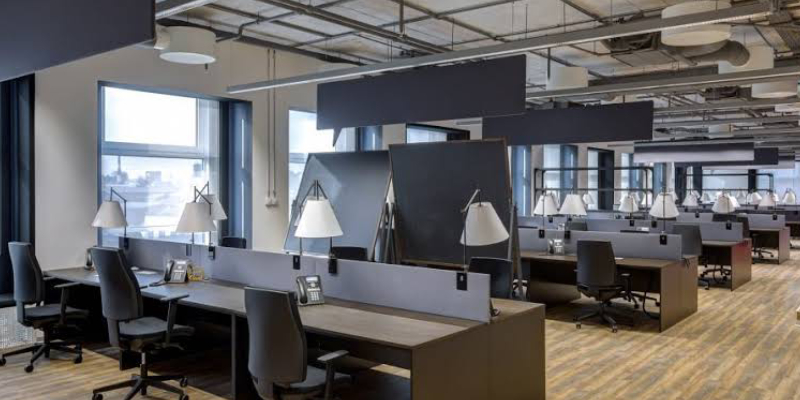 The Office: A Home Away From Home
How often have you seen an office that has taken your breath away and left you speechless? If you are a part of the current corporate world, then you might not be so surprised. If not, a simple image search on Google will come up with mind-boggling pictures of beautiful offices with an eclectic mix of contemporary and traditional decor.
Offices are taking on a new approach towards reinventing the style, design, decor, and space in what is meant to reflect a working environment. A lot of careful planning, investment, and long hours of designing go into creating an office that is a crucial part of a business. In the current trend, an office also influences employees and potential business partners to accept a job or collaborating with the organization. Employee wellness and comfort is being given utmost importance than ever before. Where workload and work pressure is immense and putting a considerable amount of stress on the well-being of an employee, organizations are seeking new avenues to ease out the tensions. Designing a beneficial workspace that reflects the employees' performance and well-being is seen as a viable solution.
Trending Designs That Infuse Life Into An Office
Less is more
No one wants to work in a cluttered, unclean, and disorganized office environment. However basic it is in its design, a clean and well-organized office reflects the very mood and work values of its employers and employees. The latest office design trend is to create a comfortable and relaxing space with minimal furniture and decor that leaves enough room to implement new ideas. Decorative art pieces are used to garner attention and lend an aesthetic value to the otherwise business-like workplace. The main furniture must be allowed to take up the center-stage, and all unwanted things deemed as clutter must be done away. Storage racks with aesthetic appeal can be arranged in strategic places within the office.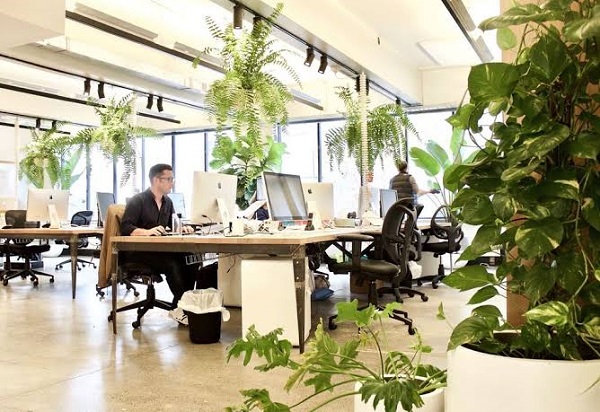 Green is good
Offices are looking to invest more in plants as opposed to investing in horrendously expensive art pieces. A cold and lifeless workspace or even a small cubicle can instantly perk up with just a little succulent or fern placed in a ceramic planter. Greenery is gorgeous and very much the need of the hour. Carefully selected indoor plants do wonders to enhance any office interior visually. If that isn't enough, plants help to clean the air of odors and pollutants and regulate the humidity of the air inside the office space. Living walls and balcony space is used to make a bold and savvy statement with plants.
What Is In And What Is Out In Office Design
Being Bold with Colours
Gone are the days when offices sported a bland look with walls painted in dull colors. While the trend of choosing neutral palettes is still relevant, office walls are sporting a splash of bright colors to liven up space. Colors are also infused with quirky furniture, gorgeous cushions, rugs, carpets, and even doors.
Ergonomic workstations and furniture
The simple desk and chair have been shown the door. Workers have to spend long hours at their workstations. To spruce up the comfort level, ergonomic chairs with adjustable back support and height adjustable desks are trending as latest replacements. Exercise ball-chairs and sitting/standing desk risers are just some of the other comfortable furniture available today.
Futuristic Trends At The Workplace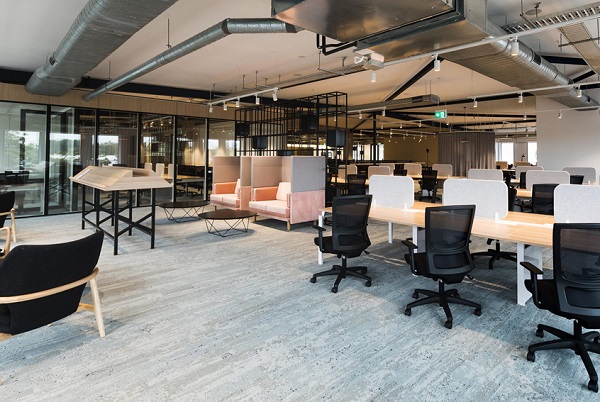 Industrial Office Designs
Gaining popularity from the early 2000s, the industrial design aims at maintaining a rustic, intentionally unsophisticated, and unrefined feel to the office. It is achieved through strategically exposing pipes, bricks, beams, and air ducts. Lack of interior walls and large windows results in extra space and ventilation.
Multi-functional offices
The latest offices aren't built and designed only with the employers in mind. Spaces are being allotted for their children and even their pets. Top-class amenities such as gyms, mini-golf courses, cycling tracks, fully-equipped modular kitchens, and cafes are added to enhance the appeal of the workplace.
Architecture in Glass
Glass is one of the trendiest design concepts of recent times. Glass gives a definitive cutting -edge appearance to the workspace along with letting in plenty of natural lighting. Providing transparency also makes for a sound-proof office. Made of extremely sturdy material that is break-resistant, glass is also cheaper and convenient to install. Check Out – The Predictions for 2020 Office Design Trends.